A collection of some interesting photos including some historic, some informative and some customers pictures over the last 12 years.

If you wish to submit a photo please email us at [email protected]
2011 - CEO, Paul Stafford with the original on stage Stageprompter
The Founder and CEO of Staffords on Stage Ltd, using our original 22WMG01 Stageprompter at a charity gig. Paul started to develop the Stageprompter when, performing in various bands, his memory started to cause him issues. The realisation that a music stand on stage was just not "rock and roll" and an iPad on a stand was too vulnerable / visible was the starting point. Early prototypes used a PC, mounted inside a wedge case. It however became very clear that the inherent problems associated with running a PC on stage meant a re think. Huge investment and development led to a purpose made "controller" that allowed .jpg's to be displayed on the screen. The current Wedge03 model uses our 2nd generation Controller that allows menu selection, screen rotation and forwards and backwards through the .jpg or .pdf images using our custom, metal, three button footswitch.
Wedge-03 cases awaiting coating
All our Wedge03 cases are made from 12mm birch plywood. Chosen for its stability and durability, this material has been proven to stand the test of time and our customers heavy handed road crews !
Our cases are made in our brand new, purpose built workshops using the latest equipment and to our high quality control standards.
The wood is CNC cut from boards to give a precise fit and then glued, pinned and clamped until set solid. Each and every case is then finished by our own experienced craftsmen, using a variety of machines. Finally, to get the best overall finish, we hand sand each and every case.
After an intricate inspection the cases are then given an initial coat of black stain, inside and out. Three coats of primer are then applied and hand sanded (flattened) between each coat. The first top coat is then applied, which is a purpose made, robust paint designed to withstand years of abuse. This coat is again, hand sanded (flattened) and a final finish top coat applied.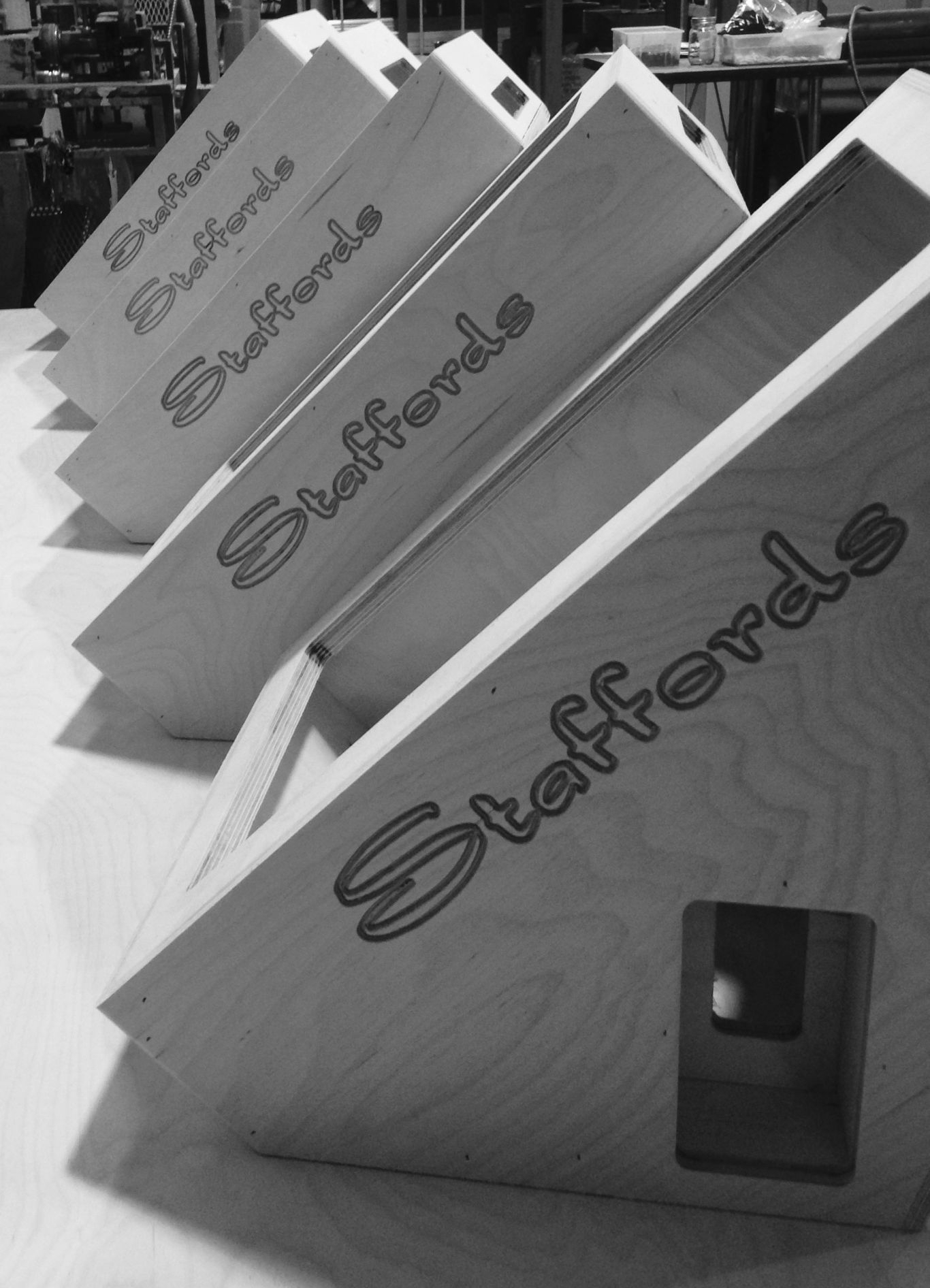 How customers have made their own system / wedge using our original RSM003 and the latest Controller04 Stageprompters.
Watch our demo video to see how to use your own screen and our Controller04 footswitch model to build your own system