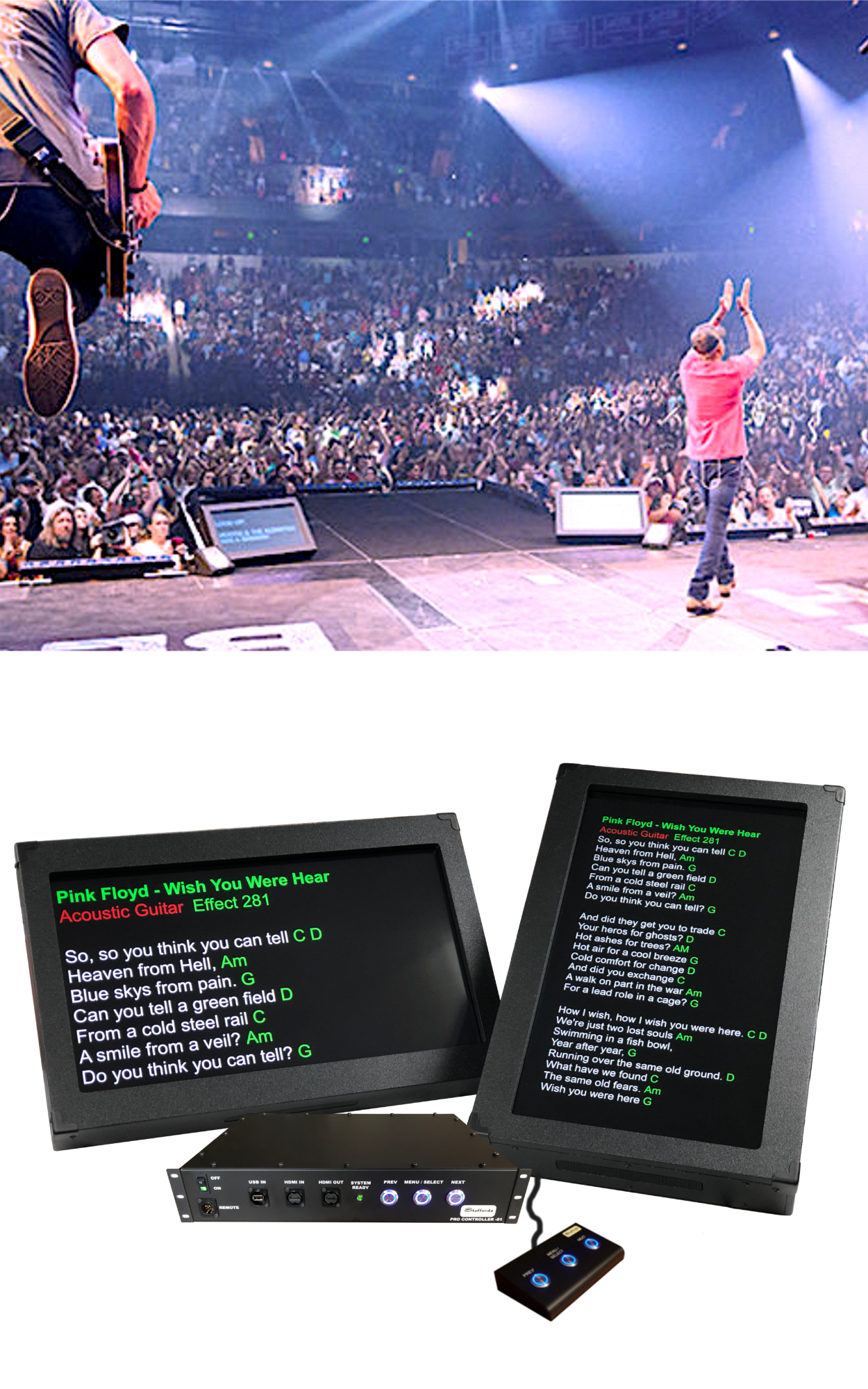 Large, multiple, 32" wedge screens, positioned portrait or landscape and linked with CAT6 cables to a remote controller / operator.
Operated by an operator at the side of stage or other remote location.
Used on larger stages where the artist does not want to control screen content.
Prices from - excl tax
GBP - £3,867 / EUR - €4,645 / USD - $5,033 / CAD - $6,658 / AUD - $7,488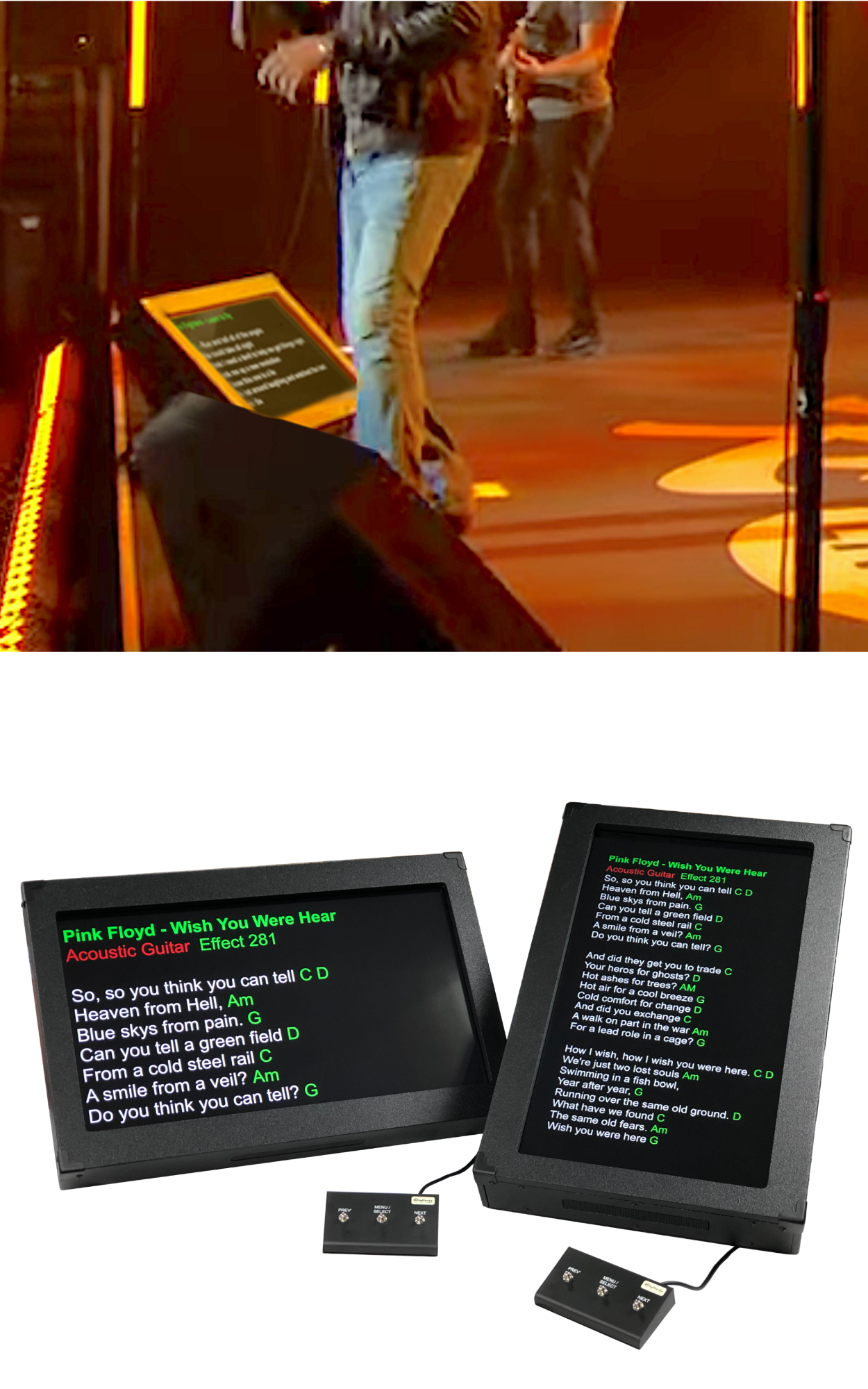 Large 32" wedge screen that can be positioned in a portrait or landscape orientation. HDMI input as well as the STD Stageprompter controller.
Opperated by a remote operator via the HDMI input or the artist using the foot switch.
Used on larger stages by artists wanting a large screen for larger font / more content per screen.
Prices from - excl tax
GBP - £1,382 / EUR - €1,597 / USD - $2,035 / CAD - $2,357 / AUD - $2,680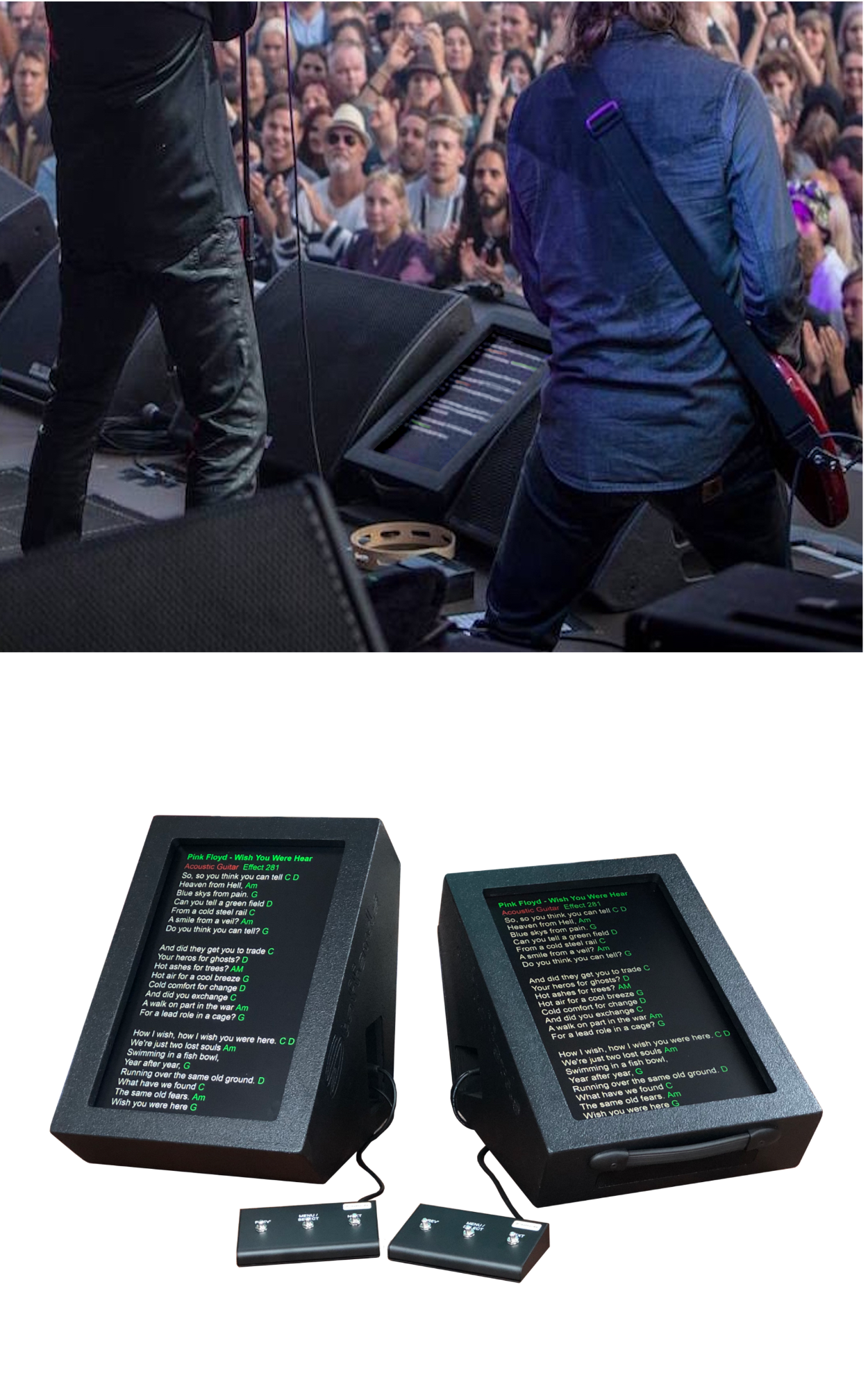 22" wedge screen that is portrait orientation, positioned upright or on its back for two screen angles. Features the STD Stageprompter controller.
Operated by the artist using our own, custom made metal, three button foot switch.
Used on small or large stages where the artist is closer to the screen when performing.
Prices from - excl tax
GBP - £796 / EUR - €920 / USD - $1,014 / CAD - $1,358 / AUD - $1,543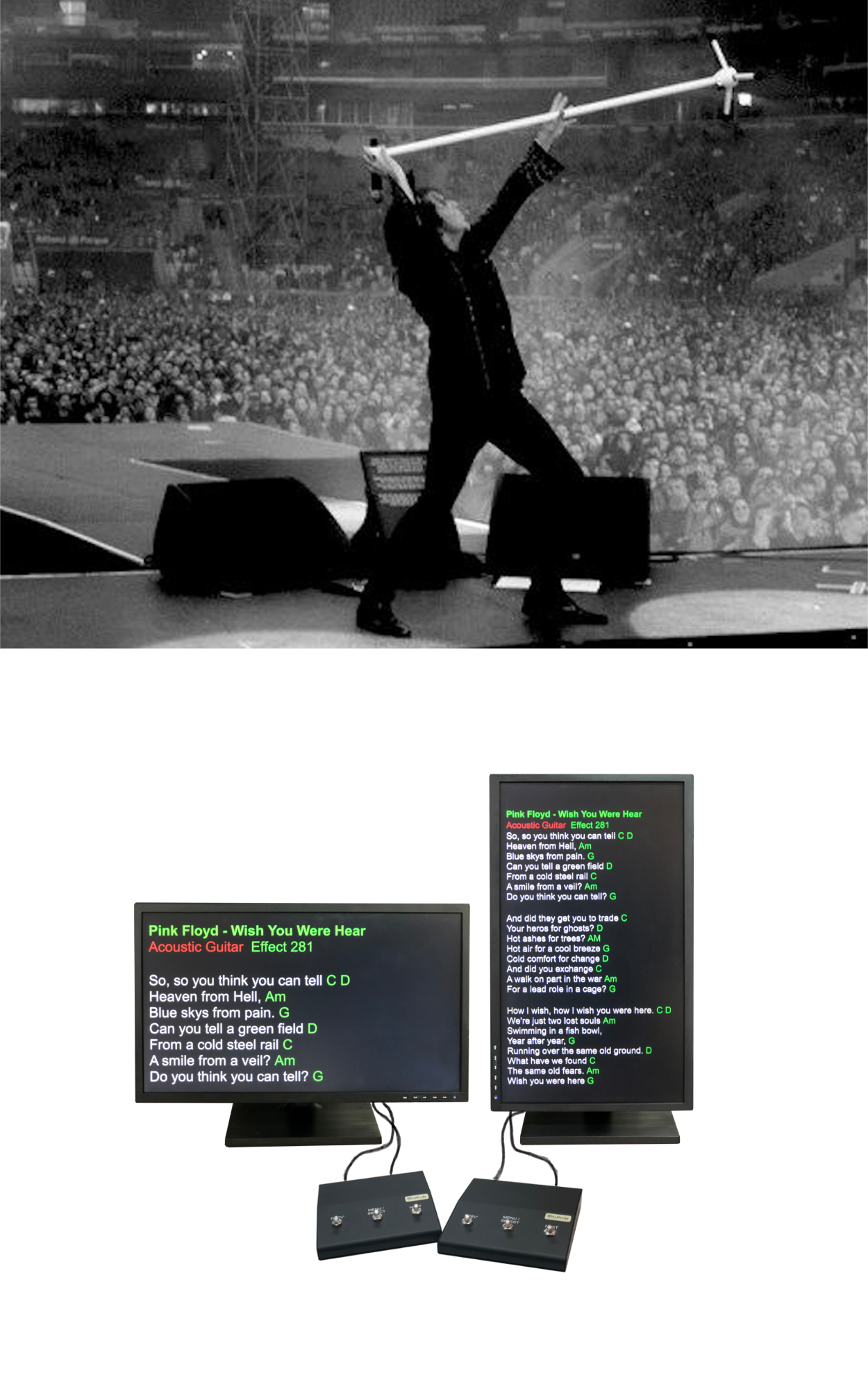 Our Stageprompter controller in a purpose built metal foot switch. Just add your own screen. Also used for DIY, air travel or linking screens.
Operated by the artist on stage by using the three metal foot switch buttons .
Used on small or large stages, with the ability to choose your own screen size and orientation.
Prices from - excl tax
GBP - £532 / EUR - €615 / USD - $678 / CAD - $907 / AUD - $1,031
Designed to last a lifetime
As a company we recognise that many commercial organisation today that manufacture products, build in an obsolescence. It is a way to get you hooked into buying more product every 3 to 5 years. All our products are built to last a lifetime. Our first Stageprompters started being sold back in 2010 and most of them are still out there being used regularly up on stage. We recognise that performing on stage, you expect "reliability and ease of use" and this is the basis of all our products. We have been voted, the manufacture of " the best singers lyric prompter " and we are proud of it !
Local sourcing of parts and consumables
At Staffords on Stage, Cambridge, Uk, we have always been focused on working with local companies and providing the local community with employment. We believe that while global trade is an important part of todays economic society and infrastructure, we also believe that local sourcing is a positive step in helping preseve the environment.
We are a family run company and as a family we also believe in doing our bit to help preserve our natural resources. We try to keep traveling vast distances for family holidays or for leisure or business to an absolute minimum. We recycle as much as possible, so for example, the ethafoam packaging that protects the industrial screens used in our products when delivered to us, is used to make the foam packaging that all our Wedge-03 and Wedge-04 Stageprompters go out in. If you order replacement parts or any smaller item, we re use cardboard boxes, bubble wrap and other packaging. These small steps and many others that we implement, go a small way to help the environment.
Voted the best teleprompter for singers
Because all our products are computerless they are simple to use and ultra reliable up on stage. We regularly have comments like, " this is the best singers lyric prompter on the market " and " definitly the top musicians teleprompter ". We have a complete product range of teleprompters, from our flagship Pro-Series to our versatile Controller-05, but don't take our word for it, have a look at what our customers say.